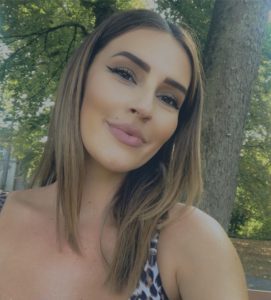 My name is Gabriela Ionescu, I am 31 years old, originally from Romania but currently live in Luxembourg, I attended the Image Consultant and Personal Shopper short course and I wanted to share with you today why I chose ELLE Education.
First of all I have been a big fan of the ELLE magazine since I was a teen and when I found out that they also have fashion trainings and formation available, I was really thrilled. I knew this is my perfect chance to absorb and extract all the information in regards with this subject.
I believe the program that ELLE Education developed for us it s absolutely challenging, offers us a different view of the industry, enriching us with knowledge and fresh perspectives.
A while ago there was also an Online webinar on World Ocean's Day before I enrolled myself in the program which got my attention, the main message was: full circularity Is the way to sustainability. I found it very intriguing and interesting, as it was saying that to become circular, the fashion industry needs to make fundamental changes in three key areas: product design, infrastructure and business models. I learned a lot from that and it was the perfect trigger to start another path in my life together with ELLE Education.
So, if you are trying to understand how to define your own fashion sense, be updated on the fashion world, aesthetics, etc, continue reading ELLE and take advantage of all the information, they are good tips on how to start figuring your own journey.