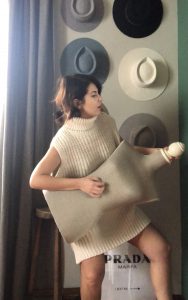 Being a Romanian immigrant in Italy was never easy for me, especially at the beginning. I was turning 18 and my life changed in a glimpse of an eye. I struggled for many years to gain respect and to provide myself a career that would make my parents proud, but never really thought about myself and what I truly wanted. So I found myself stuck in a job I didn't really love and didn't bring me any joy, just a fixed and secure income.
But first, let me introduce myself before I start talking about what brought me to ELLE Education: I'm Anca, a 30 year old married woman, no kids, mortgaged house, controller by profession a.k.a "Jolie by Anca" brand owner, freshly ELLE Education student with more dreams than she can afford. So just take into consideration the second version, it's all about perspective.
Since I was little I had a strong fiery desire to be part of the fashion world (I don't know why, but some things don't need an explanation, do they?) But only now that I am mature enough to understand what I really want, I can afford starting a new journey. It was not easy, deciding to leave a path behind for where the expectations were high is certainly a hard thing to do, but sometimes we must leave behind some old beliefs in order to build anew, and for sure this is now my intention.
I've always loved fashion, and 2 years ago I started my own brand called Jolie by Anca, a brand of overly customized handmade hats. Since I went by instinct in creating Jolie, I thought that it was time for me to look for a course, master, diploma or something similar, that could teach me how to actually make my newborn brand grow. I believe in my dreams, but I also believe that professional shared experience, and a good organized plan are the key to reach success. I lost many days searching reliable and professional online masters and courses, but couldn't find anything that suited my requirements. When I stumbled into the ELLE Education website I suddenly understood that it was the right choice for me. For sure almost all the programs were amazing and couldn't decide right away. How to Create a Brand is the course I chose to attend, and I am looking forward to start this journey at ELLE Education, which I'm pretty sure it will not finish after this course, because I am seriously considering to enroll into one of the Diploma Courses, in order to reinforce my knowledge and apply it to my brand.