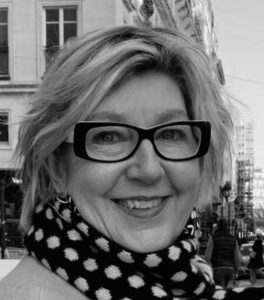 Professor Debbie Flowerday was born in London, England, and has worked in the visual merchandising industry for many years; her knowledge and experience of the Visual Merchandising industry is extensive, and what she enjoys the most is sharing her knowledge with creative students. She shares with us today the top 5 needed to be a great Visual Merchandiser.
1-Branding
It is all about the brand. Visual Merchandisers have a responsibility to create windows that can best compliment the brand.
2-Creativity
The ability to create something from nothing. The ability to see the potential in any given merchandise for arrangement.
3-Imagination
It is important to know how to come away from what is normal, and push boundaries with creative window schemes.
4-Styling 
In this case we are talking about styling for more than two mannequins, creating color cohesion, and the ability to mix textures and patterns.
5-Prop Design
The ability in prop making is essential, it is important to know how to sketch or create 3D or Cad window schemes to present to your clients.
Learn visual merchandising with professor Debbie Flowerday in our Visual Merchandising and Fashion Styling Diploma course, accredited by Complutense University of Madrid! These are the last days to register!